Holiday travel is back in force! With experts estimating that around 113 million Americans will be traveling this holiday season, it is safe to say that travel is nearly back to pre-pandemic levels.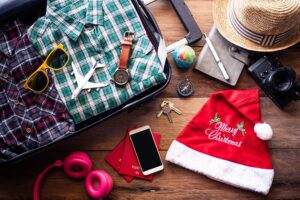 However, the resurgence brings heightened risks of crimes, especially in tourist-heavy areas. The holidays are one of the year's busiest travel times, and crime historically tends to spike during this season.
Whether you are a student traveling home for the holidays, heading abroad for vacation, or a business with employees around the globe, one thing is always true – it is essential to keep travel security in mind while flying.
We at IMG GlobalSecur, a leading corporate security firm, have put together some safety tips to help you be more prepared for busy airports, layovers, and crowds this holiday season.
Pre-Travel Health Assessment
If you are traveling abroad, look to see what insurance, health precautions, Covid-19 vaccination requirements and travel warnings are recommended for your trip. Note that a valid European Health Insurance Card (EHIC) can assist with emergency treatment if you travel to the EU.
Be mindful of what medications you bring on your flight since some cannot legally be transported internationally.
Packing and luggage
Check your airline's advice on what to pack and specifically not pack. Customs delays due to baggage searches can be a nuisance and have legal consequences, so be proactive to avoid problems. Other tips for less troublesome (and safer) travel include:
Make sure you don't pack valuables in your suitcase, rather keep them in carry-on luggage.
Ensure that baggage is labeled with labels that will withstand baggage handling. Also, be sure baggage complies with the size and weight requirements of your airline.
Try to avoid tight connection times. These may reduce your security awareness of actions and people around you and increase the chance of baggage going astray.
Having a lost bag is a setback. It may take valuable time to find and return it, especially if you are traveling to onward destinations. Always report missing baggage immediately and ask whether your carrier will provide compensation for lost luggage.
Packing a dental kit and an extra set of clothing in your carry-on is a great way to prepare for delays and cancellations.
Dressing (and prepping) for delays
Before departure, make sure you notify your phone carrier of your travel plans, and the dates you will be out of the country and upgrade to an international calling plan.
The holiday season is notorious for travel disruptions, so being prepared will reduce anxiety.
Have your emergency contacts' information written down in several places on your device and a printed piece of paper. It never hurts to have your Embassy or consulate's information for the destination and transit countries close at hand when planning holiday travel.
Think about which items (electronics, jewelry, etc.) will need to be removed for the departure and arrival scans. Small devices are easy to overlook. In a busy environment, with concerns about gates and departure times, it is easy to forget about the additional scan and your device.
Make sure you are wearing clothing appropriate not only for your destination country but also for the countries you may be connecting in along the way. Consider cultural customs as well as temperature and weather conditions. This is applicable for business travel, as well as those traveling for fun.
Common sense security upon arrival
The better prepared you are, the faster you will get through travel checkpoints. Be alert to your surroundings, even while moving through the airport itself. Keep your passport handy but concealed, and have the necessary immigration documents filled out and ready for inspection.
Once through customs or security, do not linger in the airport. Business travelers and individual travelers must be prepared to leave the airport with efficiency.
Smart travelers will also arrange for a contact to pick you up. If traveling by taxi, only travel in a registered service. Ensure you only sit in the back of the car or taxi. Insist that the driver sets a meter or informs you of the price before traveling.
If there are payment disputes with the driver, it's advisable to employ the help of your hotel lobby staff. Hotel staff is generally experienced in speaking with local taxi drivers about fare issues. Hotels usually have a security presence around their perimeter, which discourages scamming unsuspecting tourists.
These travel safety tips for the holidays can help you, wherever you go! Please review other posts on our blog for more security-related travel advice.
Share This Story, Choose Your Platform!